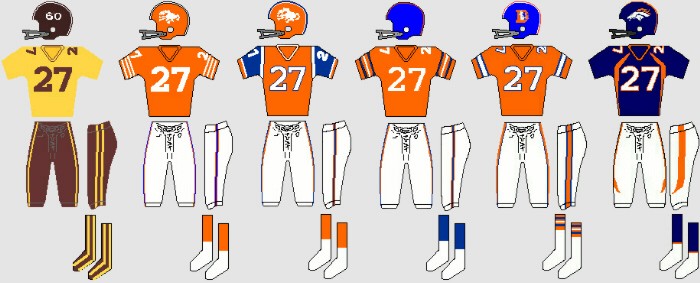 ESC's GAME-USED NEWS & PRICE GUIDE



Page Additions & Updates: This page and other associated pages on this site will be updated periodically.
Also note that older news articles are now archived for reference on our Game-Used News Archives Page.


NEWS
ESC to Sponsor/Display at Broncos Alumni Golf Tourey (5/14/11) The Denver Broncos Alumni Association will present the 5th Annual Broncos Alumni Golf Tournament on Monday June 6, 2011 at the Green Valley Ranch Golf Club in Denver. Proceeds will benefit the Broncos Alumni Charities which supports Denver-area organizations including Rebuilding Together Metro Denver, Denver Street Schools, First Tee of Green Valley Ranch, Shaka Franklin Foundation for Youth, Kappa Alpha Psi Scholarship Foundation, Porter Billups Leadership Academy, and the Kempe Foundation, among others. Those interested may view/download the event flyer here.

Endzone Sports Charities will be a sponsor of this year's event and will be displaying our "Endzone Collection" of Ring of Fame game jerseys as well as other historic memorabilia.
2010 Season Recap (5/14/11) In this update, we provide a summary of jersey information from the 2010 season.

Reebok again provided the teams' uniforms with 2010 being the ninth year of a ten-year contract with the NFL, which began in 2002. The Broncos, however, began wearing Reebok attire in 2001, one year before the exclusive league-wide contract was in place.

Due to the relative long-term continuity of the single supplier, the trend for recycling and/or carry-over of the nearly idendically styled uniforms from one year to the next continued. 2010 game jerseys of the following players exemplify this trend:

Player (Game date, Home (H) or Road (R)) – Year of issue (collar tagging identifying year-size and cut)
Justin Bannan (10/10, R) – 2008 (04-48 O)
Justin Bannan (12/26, H) – 2008 (04-48 O)
Zane Beadles (10/24, H) – 2005 (05-50 O)
Ryan Clady (10/3, R) – 2005 (05-50 O)
Ryan Clady (10/24, H) – 2005 (05-50 O)
Lawrence Marony (10/24, H) – 2007 (07-46 S)
Ryan McBean (10/24, H) – 2007 (07-48 D)
Matt Prater (10/24, H) – 2009 (09-44 S)
Jamal Williams (11/28, H) – 2005 (05-48 D)

Also in place for the second year of an initial two-year contract, JO Sports Co., Inc. (www.josportsco.com) of Las Vegas continued their marketing partnership with the Broncos to make the team's game-worn jerseys available to the public. Much of the information sumarized here is derived from information gathered from their listings.

Throughout the month of October, a pink ribbon decal was affixed to the left rear of the players' helmets in support of Breast Cancer Awareness Month. Additionally, many players were seen using/wearing pink colored arm/wrist bands, gloves, shoes and towels throughout the month.

For the home games of October 17 (vs. Jets) and November 14 (vs. Chiefs), the Broncos again donned their orange home "alternate" jereseys. For many long-time fans, the color orange is most traditionally assocated with the team and a fan-based initiative was kicked off in an attempt to persuade the team to return to these "alterenate" jerseys as their primary home jersey. As of November 19, the team indicated that they'd received over 1,000 e-mails from 43 states as well as the nation's capital and 12 foreign countries in support of the change. Though there seemed to be fairly wide support for such a change, the team would need to notify the league of this change prior to the 2011 season in order to implement the change for the 2012 season. With this,

For the October 31st game, the Broncos traveled to London to meet the San Fransisco 49ers as part of the league's ongoing Interntaional Series. The Broncos, along with other teams participating in these games, featured the league's "INTERNATIONAL SERIES" commemorative patch affixed to the upper left chest of the visitor's "road" game jerseys. The rectangular patch featured a red field with white boarders and lettering.

For the home games of November 28 (vs Rams), December 26 (vs Texans) and January 2 (vs Chargers), the Broncos wore the navy alternate home pants, along with the standard navy jerseys. Along with alternate home jerseys being worn for two other home games (see above), the team donned their standard home uniform (navy jerseys with white pants) for only three games (September 19 vs. Seahawks, September 26 vs. Colts, and October 24 vs. Raiders) —less than half of the season's home contests.
Broncos Rarity? (5/14/11)Back in February, we recevied word that the "holy grail" of Broncos' uniforms may have surfaced—an original 1960 game jersey! Word came from a Denver-area memorabilia company that one had surfaced from a source in Canada and with cautious optimism, we awaited its arrival.

Typically, in authenticating any item, one would attempt to make comparisons and contrasts to similarly styled known examples. Regarding this item, however, such comparison would be problematic since no other known examplars are known to exist. As such, the examination would have to be based soley on a comparison to existing images. Even this provides challenges in that most of the images from the early days of the AFL were of low quality as they were primarily inteded for print (ie newspaper) media where high resolution was not necessary. As such, these tend to lack detail, even when digital images are enlarged.

Arriving in Denver, a local associate was able to make a first-hand viewing and inspection of the item; invited were two local "experts", 1960 Broncos' teammates Gene Mingo and Chuck Gavin. This initial inspection confirmed that the jeresey was indeed a close stylistic match to the 1960-'61 era jerseys, however, both Mingo and Gavin, based upon their first-hand recollections, noted that overall, the jersey "just didn't seem quite right".

On April 28, Denver's Mile High Card Co. offered this jersey for auction as (Lot #2102, ending 5/19; described as follows: "1960 Ken Carpenter Denver Broncos Used Jersey… Very few pieces of memorabilia exist from the inaugural 1960 season of the Denver Broncos, so this item is sure to enthrall advanced jersey collectors. Presented is a game-used jersey attributed to running back Ken Carpenter, who played in six games for the fledgling franchise and is listed as #89 on Pro-Football-Reference.com. There is some conjecture as to whether Carpenter used this jersey in an official AFL game, since no nameplate appears on the back, nor is there evidence that a nameplate may have been put on and then removed. However, the jersey is generally consistent with the few known exemplars of the era and a more likely scenario is that it was Carpenter's practice jersey, with heavy use and player customizations present, including several small holes, team repairs, specifically to the front and back digits, and sleeves that have been cut and curled. A magnificent relic from the early football days in the Mile High City! LOA from Mile High Card Company.

Some additional research conducted between February and April of 2011 calls a couple of the points from the above description into question.

Game-Use/Wear… The item's title makes note that there is no claim being made as to this being a "game-used" or "game-worn" as it only makes reference to the apparent physical evidence that it was "used", with some speculation that its' use may have been limited to practice. The description makes clear note of the fact that "no nameplate appears on the back, nor is there evidence that a nameplate may have been put on and then removed."
Attribution to Ken Carpenter… Conducting a roster analysis for the 1960 season, it would appear that Carpenter wore uniform #89 for only one single game before switching to the #81 for the balance of the season. Carpenter joined the 1960 squad in mid-season, first appearing in the Nov 13 game at Dallas, when the team would have worn the white "road" jerseys. For the Nov 20 game at Houston, Carpenter was listed on the roster as the probable starter at LOE (left offensive end) wearing uniform #81 (previously worn by Bill Jessup, through and including Nov 13), which he continued to wear through the balance of the season as confirmed via the roster from the December 17th game program. As such, it is not believed that Carpenter would have likely ever worn the #89 home jersey in an offical game, as alluded to in the above description.
Attribution to the Denver Broncos… It is a reasonably well accepted fact that the Broncos 1960-'61 uniforms came to the team via general manager Dean Griffin, who acquired these uniforms, in already used condition from a defunct college all-star/bowl game. Speculated that "a more likely scenario is that it was Carpenter's practice jersey" discounts that it is equally likely that the physical wear came from some unidentified college player during its original life; before even being acquired by the Broncos (if the jersey was indeed ever acquired by the Broncos to begin with).
---

Go To Game-Used News Archives Main Page
---
PRICE GUIDE
Recent Transactions - Listed below are a few notable items that have been auctioned or sold in recent weeks:



Item, Source, Sale Price, including buyer's premium, if applicable, (sale date)
#26 game used 1980s helmet, ebay, $251 (2/11)
Kevin Alexander game used (Oct 31) 2010 road jersey, Ball Park Heroes via ebay, $225 (3/11)
Champ Bailey game used 2010 road jersey, Hunt Auctions, $1,265 (2/11)
Dre Bly game used 2007 home jersey, Hunt Auctions, $201 (2/11)
Cornell Green game used 1999 Raiders road uniform, ebay, $200 (2/11)
Rich Jackson game worn 1972 Brown helmet, Heritage Auctions, $896 (4/11)
Nate Jones game worn 2007 Cowboys home jersey, ebay, $133 (2/11)
Nate Jones game worn 2007 Cowboys home jersey, ebay, $99 (2/11)
John Lynch game worn 2005 home jersey, ebay, $650 (4/11)
Lawrence Maroney game used 2010 road jersey, Hunt Auctions, $1,150 (2/11)
Ryan McBean game worn (Oct 11) home legacy uniform, JO Sports Co Auctions, $500 (4/11)
Knowshon Moreno game used 2010 road jersey, Hunt Auctions, $1,150 (2/11)
Knowshon Moreno game worn (Dec 19) 2010 road jersey, JO Sports Co Auctions, $2,300 (4/11)
Brady Quinn game used 2010 road jersey, Hunt Auctions, $863 (2/11)
Eddie Royal game worn (Nov 22) road jersey, JO Sports Co Auctions, $460 (4/11)
Neil Smith (Super Bowl) game worn 1998 helmet, Heritage Auctions, $1,076 (4/11)
Al Wilson game worn 2001 home jersey/1997 home alt. pants, American Memorabilia, $428 (2/11)

Transaction Archive - For detailed historical pricing data, view our Sales Transaction Archive in Mircosoft Excel 2003 (.xls) format.

Note: If you do not have Excel, the Excel 2003 Viewer
is available from Microsoft and can be downloaded for free by clicking here.



---

Return to The Endzone (Home Page)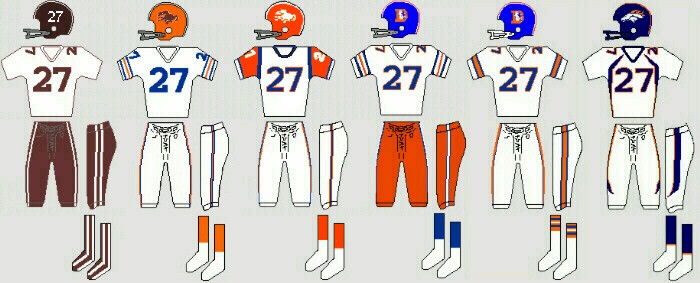 "The Broncos Endzone" is in no way affiliated with the Denver Broncos Football Club or the National Football League.
The team name, logos and uniform designs are registered trademarks of the Denver Broncos and the NFL.
---

Warning: Not to be worn for actual game play without first being fitted by a professional!

Webmaster, Endzone Sports
last revised May 14, 2011
© Copyright Endzone Sports Charities, 1995-2011. All rights reserved.