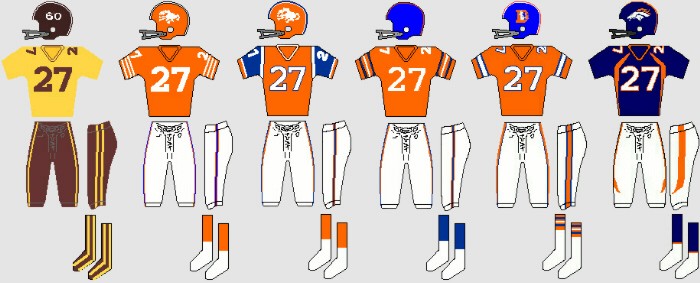 Endzone Sport Charities'
Jersey Authentication Services



Endzone Sports Charities provides our individual clients and auctions houses with the highest quality limited and specialized authentication service in the industry. By limiting items that we will accept for examination to only those items which fall within our area of expertise —Denver Broncos game-used jerseys —we can offer our clients unparalleled service with a unique fee structure that is both competitively priced for our commercial clients as well as being tax-advantaged for individuals.

Our Authenticator

ESC is proud to provide authentication services by one of the hobby's most respected collectors and researchers, Patrick Scoggin. Patrick is considered by collectors and dealers alike throughout the hobby as the foremost authority regarding Denver Broncos uniforms.
15 years experience collecting and authenticating Denver Broncos game-used apparel and memorabilia.
Owns a historically significant collection of Denver Broncos game-used memorabilia covering the teams' four-decade history, including many unique one-of-a-kind items
Maintains an extensive team-related uniform reference library consisting of still photographs, books, periodicals and video.
Our Service
ESC will examine and render our professional opinion on Denver Broncos jerseys only. This is what we know and therefore this is what will define the limits of the scope of our service. Unlike some other similar services, we will not allow our clients to suffer as the victims of our growing pains as we "learn as we go".
Each or our clients, be they a first time individual with a common player's jersey or a large auction house with multiple high-value submissions can rest assured that they will receive the same personal, professional attention that they deserve. Each submission is handled with the utmost care as it is walked through the two-stage review process. During the examination, we will bring the full weight of our resource to bear as we focus on reviewing one and only one submission at a time. Upon completion of our examination, we will issue a signed and serialized letter of opinion regarding your item and promptly return the item to you.
While we cannot firmly commit to a specific turnaround time, we can generally say that our turnaround times usually average approximately 10 business days (2 weeks) and in many cases we can expedite in as little as 5 business days (1 week). If you have a specific time requirement, please communicate this to us and we will do our best to meet your needs.
Additional information, including specific "Terms & Conditions" for submission can be found on the Jersey Submission Form which can be downloaded in .pdf format from the link below. A signed copy of this form must accompany all submissions.

Our Fee Structure
It is our policy to charge a non-tiered single base fee for any jersey that we examine. We do so as we spend practically the same amount of time with the $150 common player's jersey as we will with the $15,000 star or vintage jersey. Likewise, just as we will spend the time to document why, in our opinion, your jersey may be correct, if it is not, we will take the time to document the reason(s) for this as well, and as such, the fee is non-refundable.
As the secondary mission of ESC is to provide financial support to positively impact the lives of others, the fees collected from our authentication services are a means of doing so while at the same time, removing any motive for financial interest or potential for conflict of interest. The minimum base fee for each jersey submitted for examination is only $50 (with amounts above and beyond this minimum accepted and recommended) with 100% of this fee being forwarded as a tax-deductible donation to either the Denver Broncos Alumni Association or the Gridiron Greats Assistance Fund (established for the purpose of providing assistance to former NFL players and suffering from medical or financial hardship).

Testimonials
If you are looking for the gold standard to evaluate a Denver Bronco-related game used item for legitimacy, Patrick Scoggin is your man. I had heard many in the industry rave about Patrick… it was clear that the accolades were justified. - Christopher Cavalier, CEO Game Used Universe
(For full text of Beckett Elite article, click here)
I know of no one more knowledgeable about Denver Broncos jerseys and game used equipment than Patrick Scoggin. When I made an expensive purchase of a Broncos jersey from a dealer, I conditioned the sale on Mr. Scoggin first examining and opining on the item. Mr. Scoggin made a thorough evaluation and then wrote one of the most detailed letters of opinion I have ever seen. I cannot imagine making a significant Broncos purchase without first consulting Mr. Scoggin. - Steve Silverman
Patrick Scoggin combines honesty, integrity, knowledge, work ethic and a sense of fair dealing into a mix that is becoming less and less common in the game-worn/used uniforms endeavor circa 2006. I am privileged to be acquainted with Patrick, it has enhanced the quality of my experience in this business - Jim Yackel, Jim's Jerseys
I have used Endzone Sports to authenticate Bronco jerseys in the past and have found Patrick to be knowledgeable, friendly, and very professional. He is the ultimate authority on the Bronco jerseys and I highly recommend him. - James Teumer
… for the folks who have been collecting and researching football uniforms for some time, the name Patrick Scoggin is an all too familiar one. - Dave Grob, Memorabilia Evaluation and Research Services (MEARS)
Click Here to download our Jersey Submission Form
with Terms & Conditions (.pdf)

If you have further question, contact us via e-mail



Return to The Endzone (Home Page)


---

"The Broncos Endzone" is in no way affiliated with the Denver Broncos Football Club or the National Football League.
The team name, logos and uniform designs are registered trademarks of the Denver Broncos and the NFL.

Warning: Not to be worn for actual game play without first being fitted by a professional!

Webmaster, Endzone Sports
last revised October 16, 2013
© Copyright Endzone Sports Charities, 1995-2013. All rights reserved.