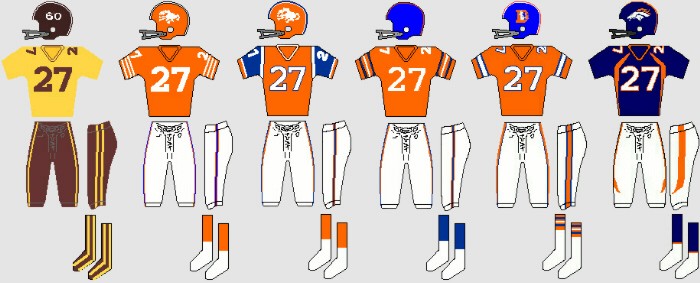 Broncos Alumni Resources



In 1995, two years after our organization's inception, Endzone Sports Charities (ESC) began a collaboration with Broncos alumni, soliciting their assistance to help in our charitable endeavors and over the past 15 years, scores of former Broncos have aided us in a variety of projects to benefit the less fortunate. Since then, our association with the alumni family has led to our publication of an independent alumni newsletter (the Broncos Corral) and our creation of the Broncos Alumni group (BAg) at facebook. These media resources are intended as a means to help Broncos alumni connect and interact with one another and are provided as a service of ESC as a way of saying thanks to and paying back this generous group for their efforts.
This page has also been created for their benefit as a portal to a number of other outside resources which may be of interest. It includes links to dire need assistance resources, alumni advocacy sites and blogs and links to other ESC pages related to our ongoing charitable activities which seek to positively impact the lives of others, with an emphasis on assisting former NFL players and staffers who are suffering from financial or medical hardship.
As we have long followed the struggles regarding much needed improvement of the current pension and disability programs, it is evident that, even amongst the alumni, there remains a passionate and sometimes bitter divide. While we remain passionate in our belief that these systems are obviously in need of improvement, as "outsiders", we also feel that it is important that we remain impartial and outside the firing lines of the battling factions. As such, we have provided the information below, listed alphabetically, with no preference or agenda of our own.
ALUMNI ASSISTANCE

Gridiron Greats Assistance Fund
- The Gridiron Greats Assistance Fund's mission is to assist retired NFL players, who are in dire health and financial distress by providing a means to regain a semblance of dignity and quality of life that every human being deserves. The Fund will support grant applicants through a series of conventional and non conventional fund raising efforts while calling attention to those in need through partnership programs, licensing efforts and public relations events with the set goal of expanding the Funds assets through partnerships with the National Football League and the National Football League Players Association and Alumni.
If you are a retired NFL player in dire need or family member of a player who needs assistance, please contact the GGAF offices at (847)509-3086 or email them at info@gridirongreats.org to discuss their assistance program and criteria needed to qualify for financial and medical assistance.
Click here for more information about the Gridiron Greats Assistance Fund

NFL Player Care Foundation
- As a way to provide a centralized financial resource to former players, the NFL Player Care Foundation has recently expanded to include the NFL Alumni Dire Need Charitable Trust Fund. The Player Care Foundation is an independent organization established to improve the quality of life for retired players through financial grants, research and player advocacy.
Since its inception in 2007, the Foundation has used a portion of its $17 million endowment to underwrite medical research and national health screenings. Equally important is its role in providing monetary grants to qualified NFL alumni who are experiencing financial hardships, including grants to eligible players who need financial assistance in paying for the costs of Player Care Plan programs such as joint replacement, spine treatment or neurological care.
All applications will be processed through the Player Care Foundation, but may be submitted through either the Player Care Foundation or the NFL Alumni Offices. The grant applications are considered on a case-by-case basis, with reference to the following eligibility guidelines:

Applicant must be a former NFL player with at least two credited seasons of NFL play, and such former player's spouse and children are eligible
Applicant must meet financial qualifications
First-time applicants will be preferred to repeat applicants
To apply for assistance or to learn more about the Player Care Foundation please contact Dana Lihan at (954) 639-4584 or (800) 878-5437 extension 1018 or go to http://www.nflalumni.org/PlayerAdvocacy/FinancialAssistance.aspx or www.nflplayercare.com/.
ALUMNI ADVOCACY & OTHER RESOURCES



Dignity After Football (Brent Boyd, et al) - www.dignityafterfootball.org/


Fourth & Goal (Bruce Laird, et al/Baltimore Colts) - fourthandgoalunites.com/


Harry (Carson)'s Hits - www.harrycarson.com/


NFL Alumni Association - www.nflalumni.org/


NFL Former Players blog - nflretirees.blogspot.com/


NFL Players Association Retired Player FAQs - http://www.nflplayers.com/about-us/FAQs/Former-Player-FAQs/"


Dave Pear's blog (the unofficial blog for independent retired football players) - davepear.com/blog/


RetiredPlayes.org - retiredplayers.org/


If you know of other sites for information which are not listed here, please contact us to have them added.
ESCs ALUMNI LINKS



Endzone Sports Charities administers the online Broncos Alumni group (BAg) at the social networking site, facebook. This closed (private) group is open to alumni ONLY. To join this group, if you have not already done so, go to www.facebook.com and sign up. Facebook users can then send a request to join this diverse and growing group, by clicking here.


Patrick W Scoggin

Endzone Sports Charities has created a new eBay account specifically for the purpose of listing our sale and auction items to benefit our supported charitable causes through eBay's GivingWorks.
To view a list of items currently available, visit the enzonesportscharities' Items For Sale page



If you would like to make a donation to provide financial support for our charitable efforts,
click the "Donate" button below


If you have items or services that you would consider donating for our ongoing fundrasing projects, please contact us




Return to The Endzone (Home)
---


"The Broncos Endzone" is in no way affiliated with the Denver Broncos Football Club or the National Football League.
The team name, logos and uniform designs are registered trademarks of the Denver Broncos and the NFL.

Warning: Not to be worn for actual game play without first being fitted by a professional!

Webmaster, Endzone Sports
last revised October 16, 2013
© Copyright Endzone Sports Charities, 1995-2013. All rights reserved.