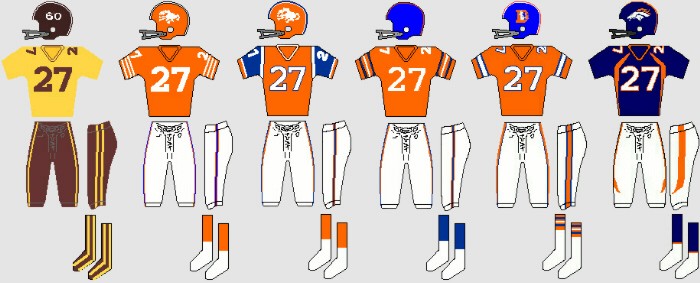 About Endzone Sports Charites

About...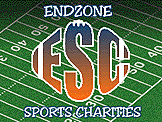 Endzone Sports Charities (ESC) is a Colorado-based volunteer organization established in 1993 dedicated to archiving the uniform history of the Denver Broncos Football Club through research, education and historical preservation. We actively collect, document, and preserve artifacts related to the Broncos' past from the team's inception in 1960 up to the present day and disseminate information so that all interested persons can develop their understanding and appreciation of this organization and its players. Additionally, we partner with and support other organizations' efforts to positively impact the lives of others, with an emphasis on assisting former NFL players and staffers who are suffering from medical and/or financial or need.




Who is ESC?
As a life-long fan of the game of professional football and the Denver Broncos, ESC's founder and Executive Director Patrick Scoggin began collecting football-related memorabilia some 30 years ago. His expertise in the area of gridiron collectibles has been widely utilized. He has served as an information resource to the editors of Sports Collector's Digest (SCD) and Tuff Stuff; contributed to the publication of the Sports Americana Football Card Price Guide; and, has acted as a regional correspondent for Beckett's Football Card Monthly magazine. As the Executive Director of Endzone Sports Charities, Patrick serves as webmaster of The Broncos Endzone and also publishes a Denver Broncos alumni newsletter, ESCs Broncos Corral.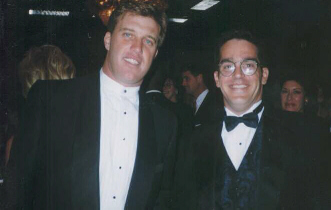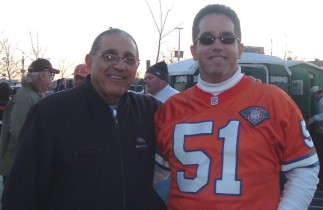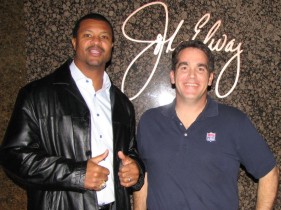 ESCs Patrick Scoggin with Broncos QB John Elway in 1997 (left); with 1960 alum DB Frank Bernardi at 2006 alumni game (center); with ROFer Steve Atwater in Dec '07 (right)
After serving six years in the U.S. Air Force (1982-'88), Patrick earned a B.S. degree in Business and Management from the University of Maryland (1989) prior to spending time working in the fields of aircraft maintenance, commercial real estate brokerage and the mirco-brewing industry--where he was general manager and brewmaster of B.F. Coleman Brewing Corp (1994-'98). After toiling as a production manager in the corporate/manufacturing world for the next twelve years, he then decided to 'follow his passion' and returned to school in 2011, where he earned a culinary arts degree. He is currently a chef in Pueblo, Colorado.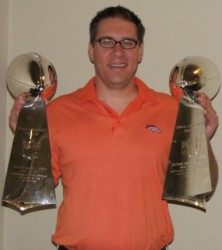 Tom Jacobsen is a Colorado native whose family has been intertwined with the Broncos, really since the beginning of both as his parents' first date was to a Broncos game in 1960! His family has had season tickets since 1967 and they remain a fixture on the game-day tailgating scene in Lot G (feel free to stop by and say hello!).

Tom has been collecting game-worn Broncos jerseys for the last 10 years, with his focus being on jerseys belonging to members of the Ring of Fame as well as players from the 1960s.

Having earned a Bachelor's degree in economics from the University of Colorado and a MBA from CU-Denver, Tom has now been employed in the finance industry for fifteen years, primarily in management capacities. In his current role, he serves as Operations Manager for, M. J. Smith and Associates, one of the top wealth management firms in the country.

ESC's Assoc. Director Tom Jacobsen with the Broncos' Super Bowl hardware (left)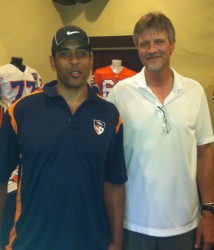 Jamie "Dr. J." Teumer became a Broncos fan in 1968 when his family moved to Fort Collins, quickly displacing the Packers as his favorite team.
He began collecting as a child in 1965, switching to game used jerseys in 1994. The focus quickly became the Broncos from 1972 to the early 2000's.
Jamie earned a B.S. in Biology from Fort Lewis College while playing basketball. He then attended medical school at the University of Health Science in Kansas City, Missouri, completing his internship in Detroit before an Emergency Medicine residency at Cook County Hospital in Chicago. He currently is an attending emergency physician for Emergency Physicians of The Rockies and medical director of Medical Center of the Rockies, a level II trauma center in Loveland, Colorado.

ESC's Assoc. Director Jamie Teumer (right) with Broncos' Ring of Famer Dennis Smith






About The Broncos Endzone site...
The Broncos Endzone first entered the domain of the world wide web in 1997. This site was created as a historical repository; it was always intended to be, and remains still, a non-commercial site. As such, it is devoid of most of the glitz, glamour, whistles and bells that clutter many other sites. We feel, however, that the absence of these provides for a more efficient and enjoyable site.


ESC's Projects - Present and Past History...

Current & Ongoing Projects

Over the past several years, ESC has been involved with a project focused on historical preservation, having begun assembling a collection game-worn jerseys and other historically significant memorabilia.
The collection is primarily focused on uniform items relating to players who have been inducted into the Denver Broncos' Ring of Fame. In order to complete this collection, we are actively seeking game jerseys of the following players:

Austin "Goose" Gonsoulin (#s 23/45, 1960-'67)
Gene Mingo (#21, 1960-'64)
Lionel Taylor (# 87, 1960-'67)
Paul Smith (# 70, 1968-'78)
We would gratefully appreciate any assistance in locating these items and we will continue to offer reports of progress in this endeavor on this site.





For many years, ESC has advocated for improved medical and disability benefits for former pro football players, many of whom suffer significantly diminished quality of life as a result of their playing careers.

We actively provide support to organizations providing financial assistance to those in dire need, including the Gridiron Greats Assistance Fund amongst others.




Past Projects

From 2011 through 2014, ESC partnered with the Denver Broncos Alumni Association (DBAA) where we displayed our "Endzone Collection" of historic Broncos' Ring of Fame game jerseys each year at the DBAA's annual golf tournament as well as providing financial support for their charitable mission.
Formed in 1991, the DBAA created the Denver Broncos Alumni Charities (a 501(c)(3) non-profit) in 2005 in order to support organizations throughout the metro Denver region and beyond, helping to change the lives of at-risk youth.



In 2007 and 2008, ESC displayed our "Endzone Collection" of historic Broncos' Ring of Fame game jerseys at the Denver Broncos' Fan Fair events at Invesco (now Sports Authority) Field at Mile High.



From 1996 through 1999, ESC had partnered with the Elway Foundation for its Annual Elway Celebrity Auction.
In 1997, ESC made a contribution of nearly $1,000 in the form of funds and items which were donated for auction. Proceeds from these items raised over $2,700 to assist the Elway Foundation's efforts to aid in the treatment and prevention of child abuse (See below). Members of the Denver Broncos Ring of Fame assisted with our 1997 project by adding their autographs to various items which were donated for use as auction lots. Former Broncos who participated included Austin "Goose" Gonsoulin, Randy Gradishar, Rich Jackson, Tom Jackson, Charley Johnson, Floyd Little, Craig Morton, Haven Moses, Paul Smith, Lionel Taylor, Frank Tripucka, Jim Turner, and Louie Wright. A special thanks goes out to all!
Participating in our 1998 project were some of the NFL's greatest quarterbacks of past and present including Sammy Baugh, Dan Fouts, John Elway, Otto Graham, Dan Marino, Joe Montana, Bart Starr, Roger Staubach, Fran Tarkenton, and Johnny Unitas. A heartfelt thanks to these folks as well who autographed a game program depicting "The Greatest Quaterbacks of All-Time". Matted and framed, this unique piece helped raise nearly $1,000 for the Foundation's beneficiaries.
In 1999, some diligent research and persistence paid off as we were able to track down nearly 30 members of the inaugural Denver Broncos team who agreed to autograph a team photograph to be donated for that year's event. Participating were 1960 alumni Ken Adamson, Buddy Alliston, Frank Bernardi, John "Red" Brodnax, Al Carmichael, Bill & Eldon Danenhauer, Chuck Gavin, Goose Gonsoulin, John Hatley, Gordy Holz, Bill Jessup, Don King, Frank Kuchta, Carl Larpenter, Pete Mangum, Bud McFadin, Bob McNamara, Gene Mingo, Johnny Pyeatt, Dave Rolle, Bob Stransky, David Strickland, Lionel Taylor, Frank Tripucka, Billy Yelverton and Joe Young. To these gentlemen, our most sincere "Thanks!" This historic item again sold for over $1,000 at the Elway Foundation's charity auction.



Since his rookie year, John Elway has always been very active in the Denver community. In 1987, John decided to start the Elway Foundation to join with the community's efforts to eliminate child abuse. John recognized that child abuse was a growing issue in our society and was affecting more and more lives. The decision was made to concentrate the Elway Foundations' efforts in the area of the treatment and prevention of child abuse and to hopefully prevent future generations from becoming victims of this crime.
Over $3 million has been donated since the inception of the Elway Foundation. The money raised by the Elway Foundation is divided equally between two local organizations, the Kempe Children's Center and The Family Advocacy, Care, Education, Support (FACES). Each organization has a proven track record of successfully dealing with the prevention and treatment of child abuse. This makes them very worthy recipients of the Foundation's fund raising efforts.
The Kempe Children's Center is world renowned for its research into the causes, treatment and prevention of child abuse. They publish and produce training materials for teachers, social workers, parents and doctors to help them recognize symptoms of child abuse and effective ways to treat it. Their innovative program, ReCAP, is designed to treat children who have been abused by someone outside the family. Their Community Caring Project helps at risk families through home visitation, counseling, emotional and physical support. The Kempe Child Advocacy and Protection Team provides medical diagnosis and treatment of child abuse. They also run on-site therapeutic pre-school for children with significant developmental delays and psychiatric problems.
FACES provides direct prevention and treatment services through its Parent Aides and Parent Consultation programs. Parent Aides are volunteers, trained by FACES professional staff, who provide home visitation that teaches parenting skills, reduces isolation, builds self-esteem and promotes healthy relationships between parents and children. The Parent Consultations are designed for parents with specific concerns about development and child rearing issues. An in-depth assessment of family needs can be performed to help family members access appropriate resources. In addition, FACES staffs a help line that can refer callers to other resources as needed. Their award winning Family SHARE® interactive workshops for families, kids and schools promote healthy relationships. They also provide training for nurses, child care workers, teachers and others whose work brings them into contact with children and their families.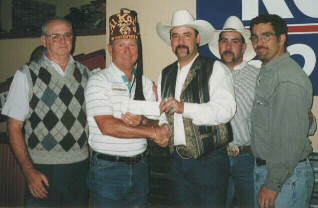 (Left: Sep.21, 1997 - Shriners receive donation from proceeds of the 1st Annual Richie Scoggin Memorial Rodeo. Pictured l to r are Floyd Scoggin, '97 Al Kaly Shrine Potentate Randy Gregory, The Gambler's Darren Trapp & Galen Hocking, and ESC's Patrick Scoggin)

The Richie Scoggin Memorial Rodeo was held annually for 11 years in honor of Richard L. "Richie" Scoggin, an aspiring professional bull rider and younger brother of ESC founder Patrick Scoggin. Richard, 27, was killed in an automobile accident on June 12, 1997. Over the years, thousands of dollars were raised through this event and proceeds benefited organizations such as the Al Kaly Shriners, the El Pueblo Boys and Girls Ranch, and the High School Rodeo Crisis Fund and TREC. ESC director Patrick Scoggin was honored to represent the Scoggin family for this event over the years.







Over the past twenty years we have made donations to and/or partnered with numerous other charitable organizations, including:





_______________

The Higher You Climb, the more that you see;
The more that you see, The less that you know
The less that you know, the more that you yearn;
The more that you yearn, The Higher You Climb
~ D. Fogleberg ~


---

If you would like to make a donation to provide financial support for our research or charitable efforts,
click the "Donate" button below


If you have items or services that you would consider donating for upcoming events, please contact us




Return to The Endzone (Home)
---


"The Broncos Endzone" is in no way affiliated with the Denver Broncos Football Club or the National Football League.
The team name, logos and uniform designs are registered trademarks of the Denver Broncos and the NFL.

Warning: Not to be worn for actual game play without first being fitted by a professional!

Webmaster, Endzone Sports
last revised May 14, 2015
© Copyright Endzone Sports Charities, 1995-2015. All rights reserved.